Murals
Gary has painted some 40+ wall murals both indoors and outdoors on all types of walls including stretched canvas murals as large as 8x12 foot. Most of them involved painting with someone - either his daughter, Nicole, artist friends, or various students from over the years.
These are pictured some of the favorites to give a variety of compositions and ideas. View the story behind each mural and additional details below. If you are interested in having a mural painted, click here to contact Gary!
Venice - 6x11 foot acrylic on canvas • Giclee prints on canvas available • 22x36 for $300
This painting was done is 2002 on the floor of Gary's studio in Virginia. He was assisted by his daughter Nicole and student Shannan Donlan. It was rolled out and stretched using screws to paint on it and back up for normal business. The stretched frame was assembled at the home for completion and hanging.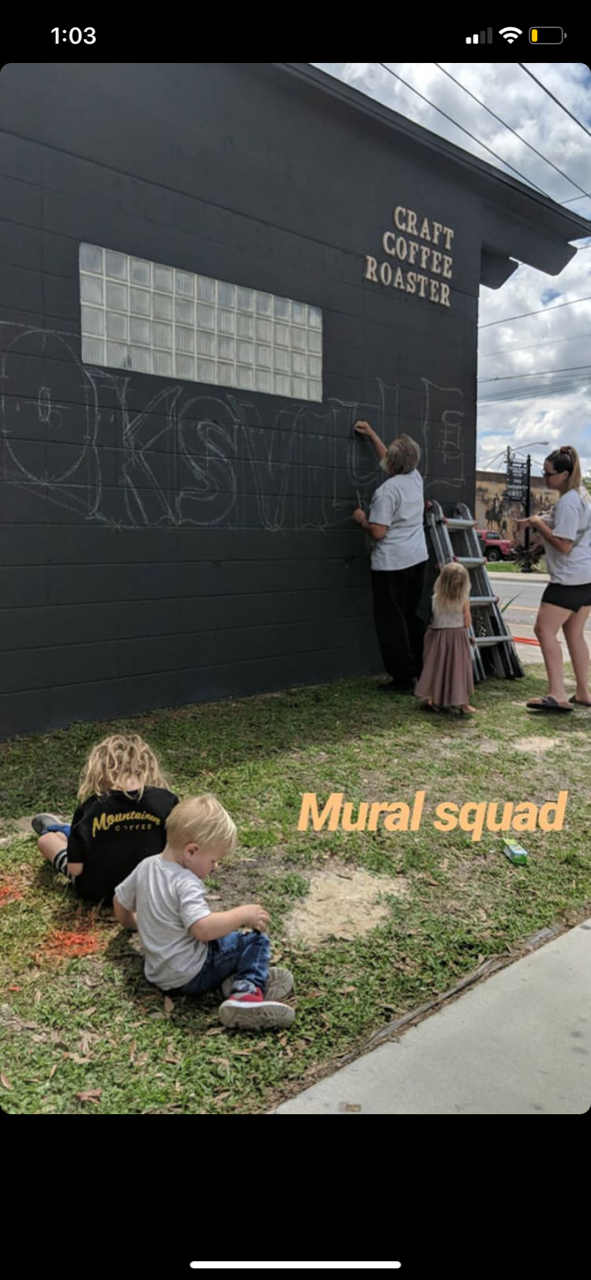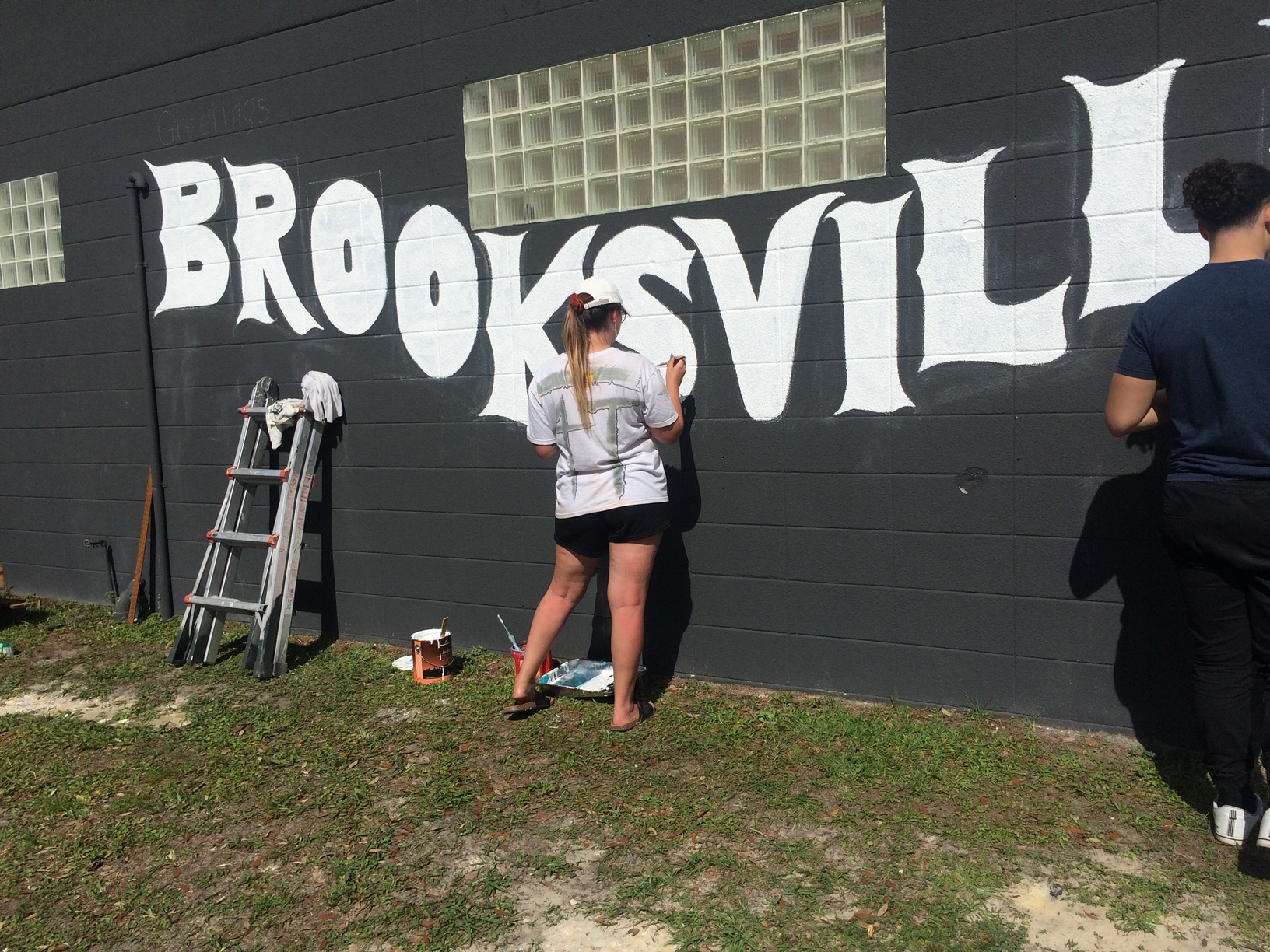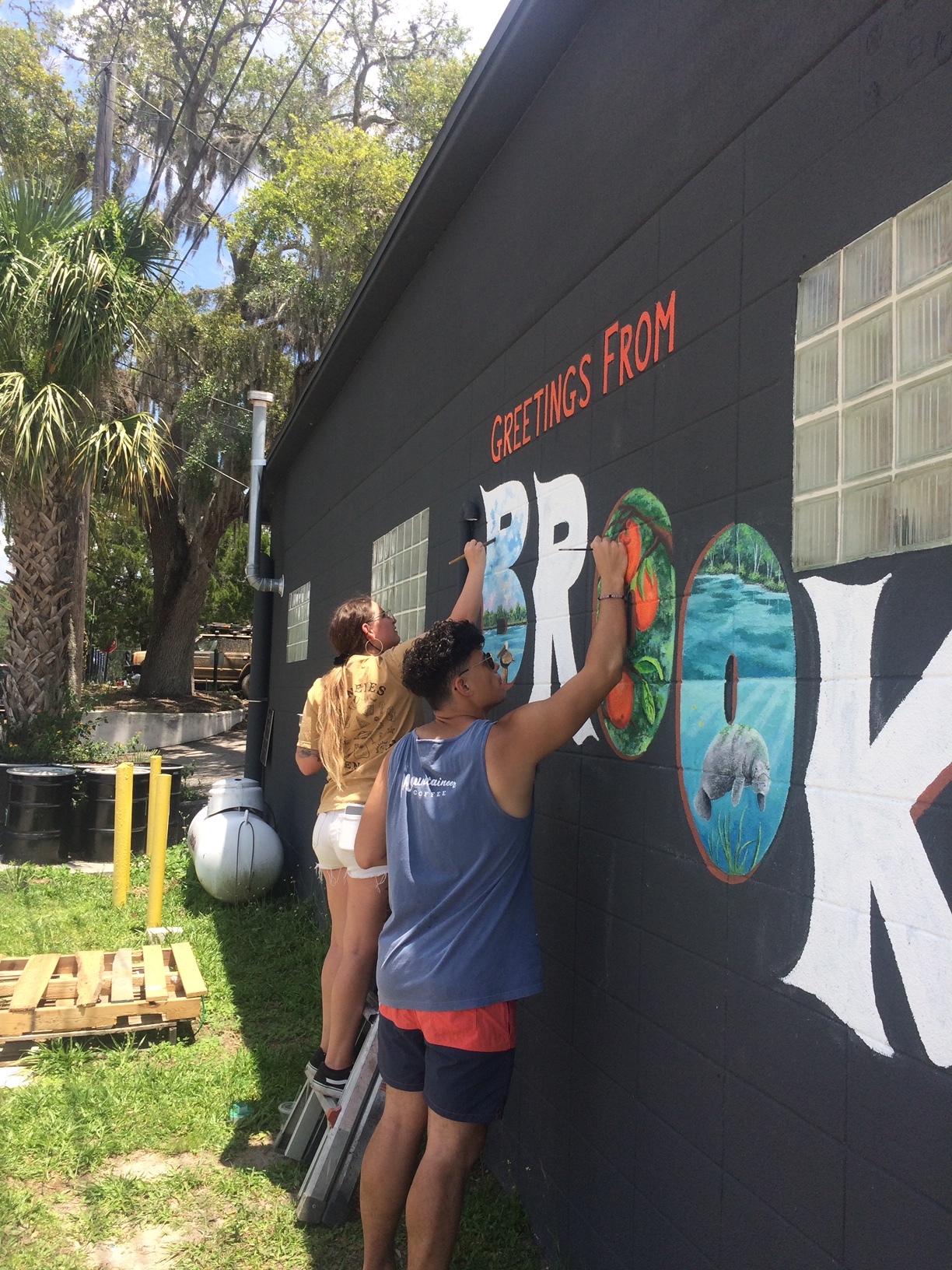 Mountaineer Coffee Mural • Brooksville, FL (2019)
On the side of the building, just as you drive into town, this mural stands as the first thing visitors see while riding into town from Route 41. Each letter has it's own meaning and representation of Brooksville and stands 22"x30". Special thanks to artists Allisa Babor of Roots Creative Co. and Joel Hernandez of Primary Paints for assisting with the mural painting and planning.
Frederick's Seafood Restaurant • Frederick's, VA (2001)
All the walls in the restaurant were painted so that it appeared as if you were sitting in the Lost City of Atlantis, including the bathroom doors! On these doors, Neptune could be found on one and a mermaid on the other! In all, thirteen people painted fish on the walls after it was prepped with a blue gradation. Some people painted very small fish, while others painted very large one. Depth was added to the landscaping afterwards.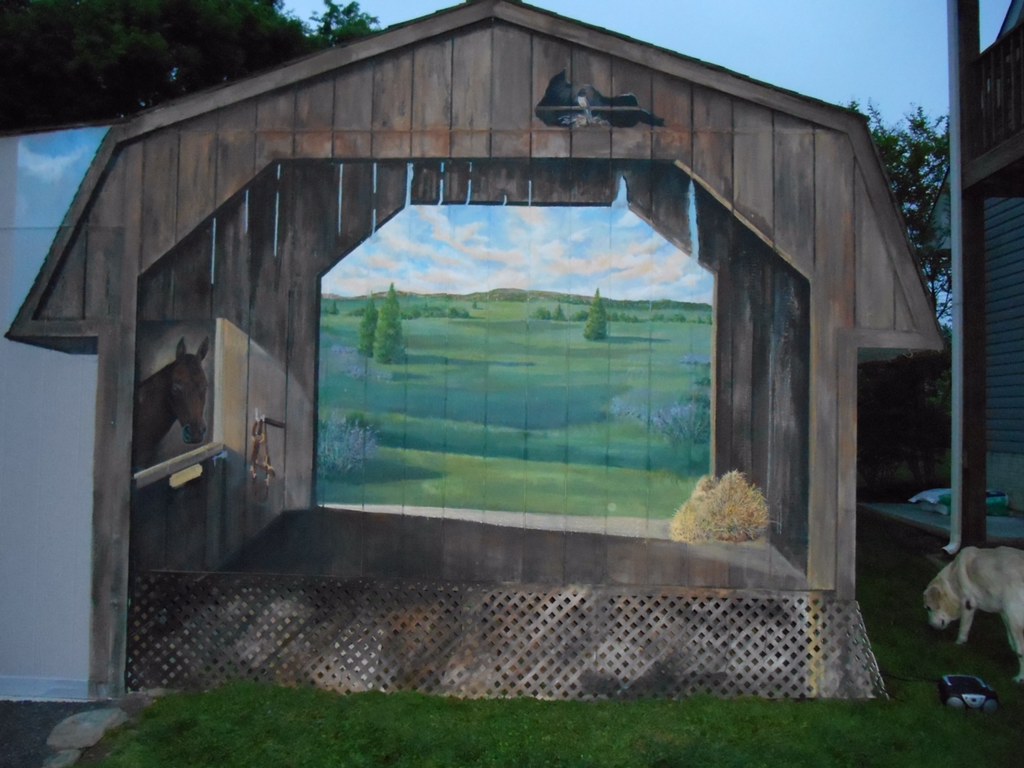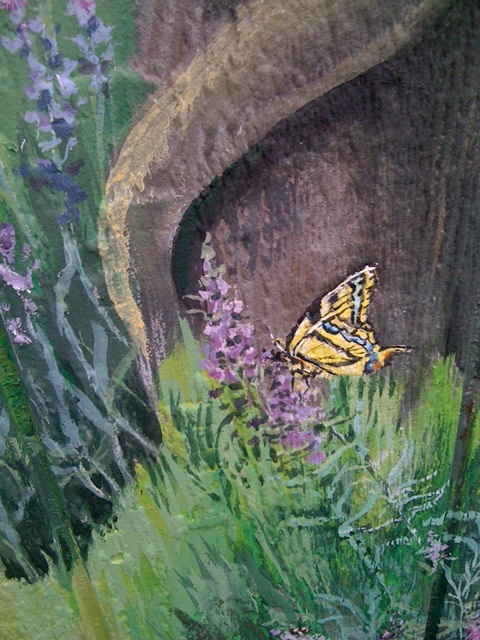 Lavender Heights B&B • Stafford, VA (2014)
Designed and painted in collaboration with artist Deborah Elaine. This odd shaped outbuilding was designed to be a covered bridge with Wisteria tree between the doorways that repeated ones in the gardens. A spot where weddings are held the branches made into the shape of the heart. A to scale watercolor was performed prior to the painting.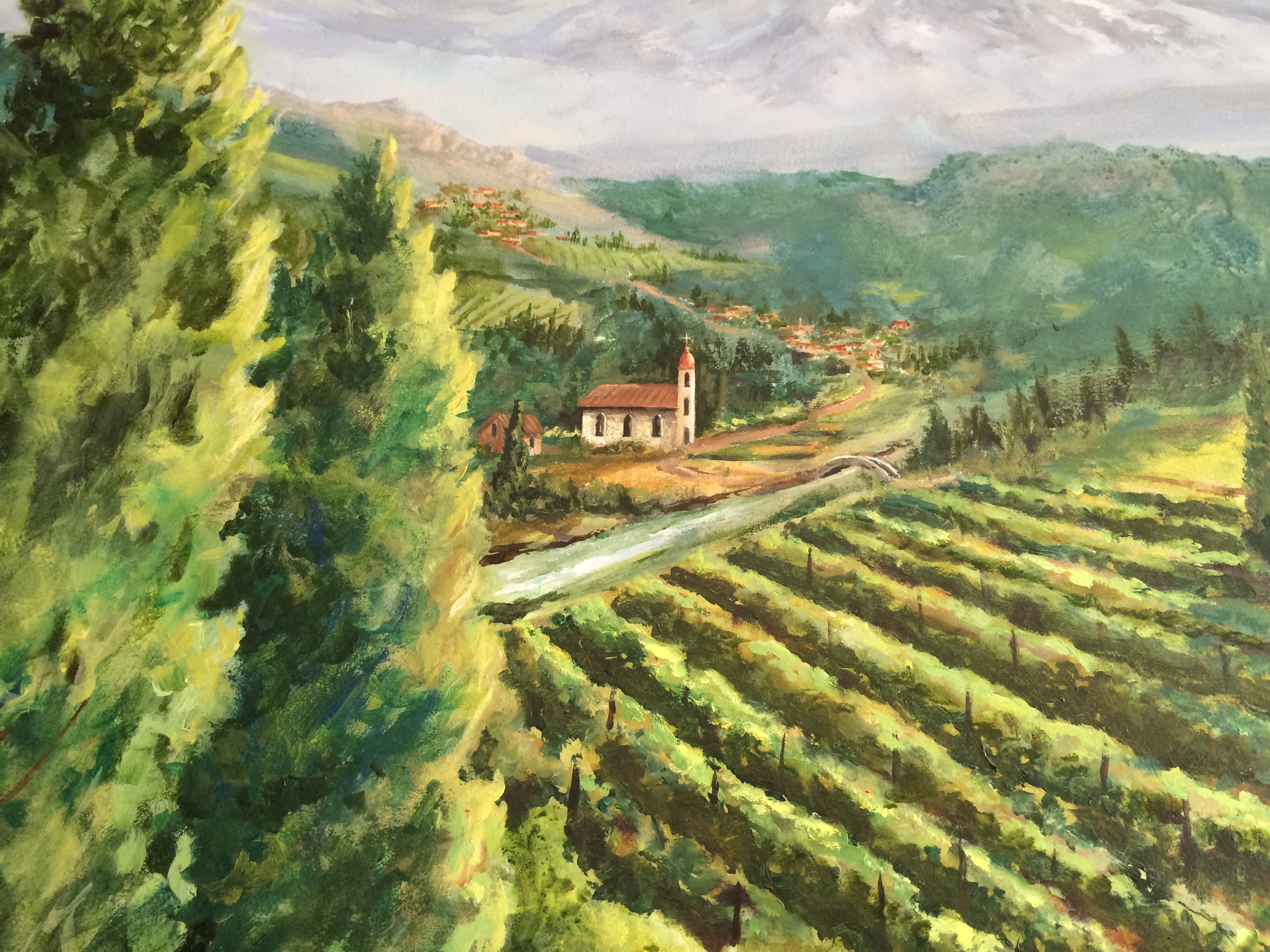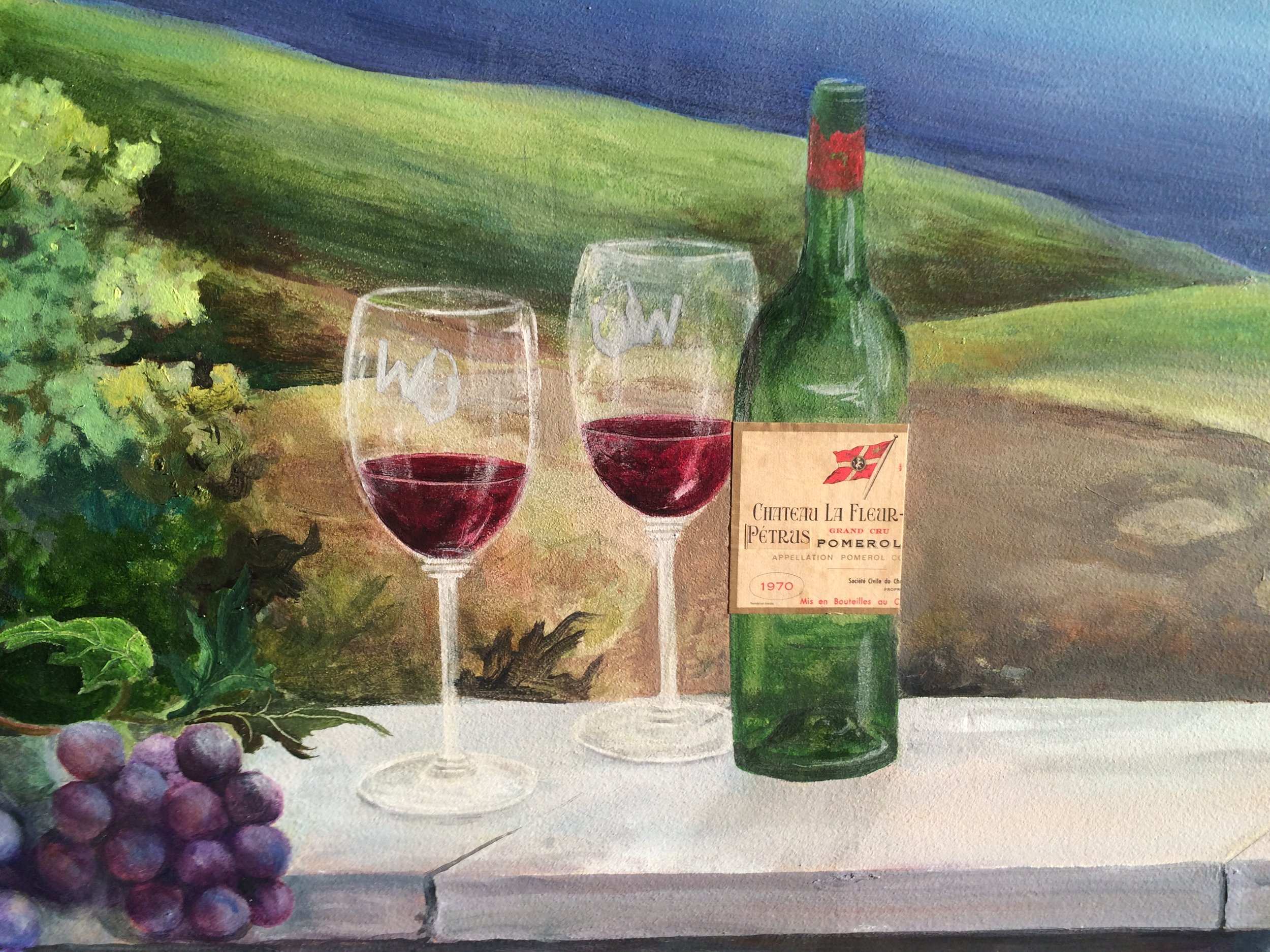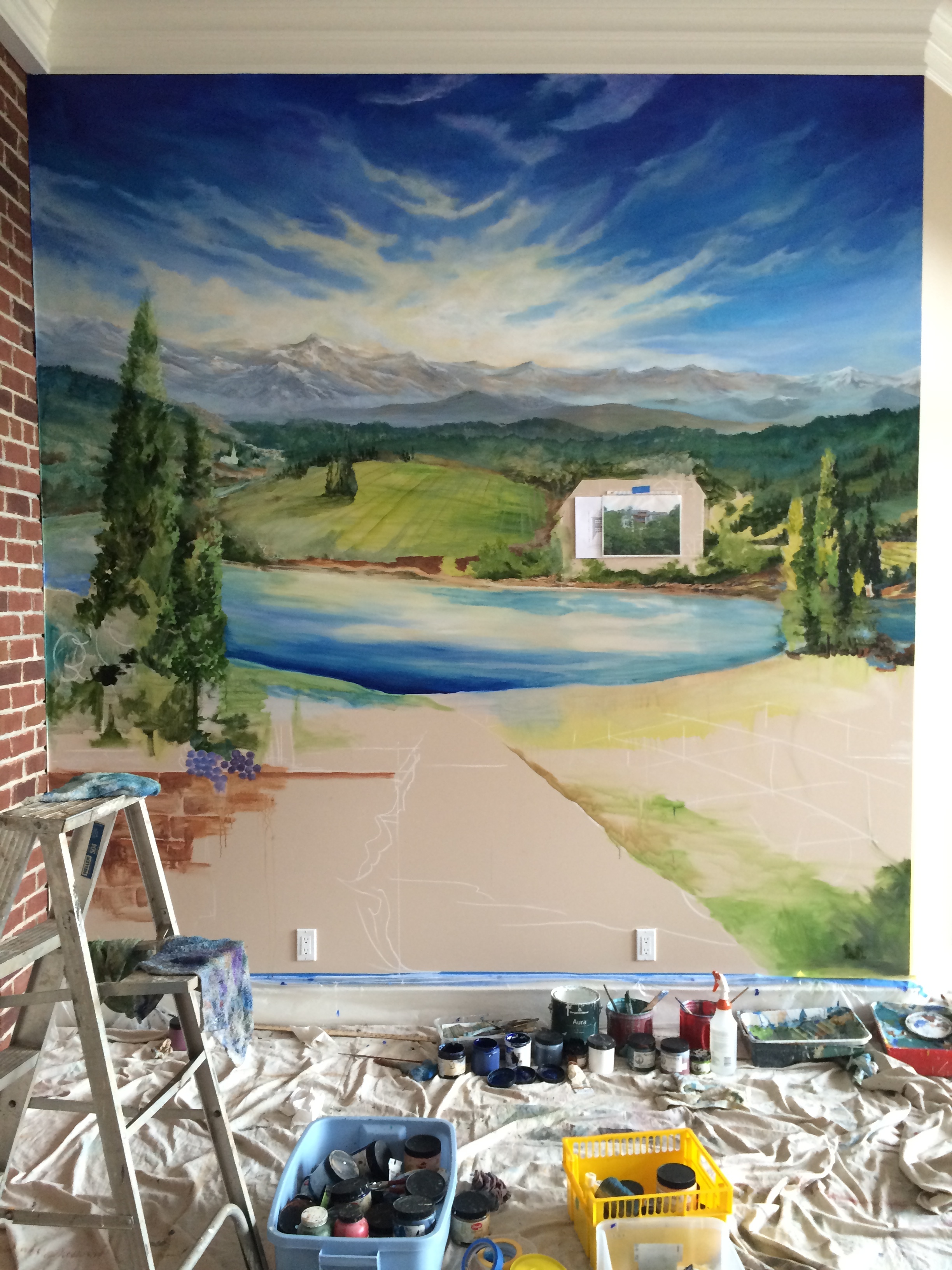 Rochon Home • Stafford, VA
A very unique home named "Wine Cliff." It is five stories high and sits on a cliff overlooking Aquia Creek. When you drive up to it, it was just a one story rambler with eight foot ceilings. The ceilings became taller as it descends. This mural is 12x12 foot on the third level down, next to the wine cellar! The house in the mural is portrait of it looking from the creek. The mural was completed just before my move to Florida. It was painted in collaboration with artist Deborah Elaine and with Ramiro Alaniz, a student who came to me at age 8. At age 24, he said he wish he could mural paint with me, and that evening he was invited!
Chiang's Bistro • Stafford, VA (2000)
Gary's first restaurant mural assisted by two of his high school students, Shannon Donlan and Andrea Caruso. Two 30 foot long wall painted.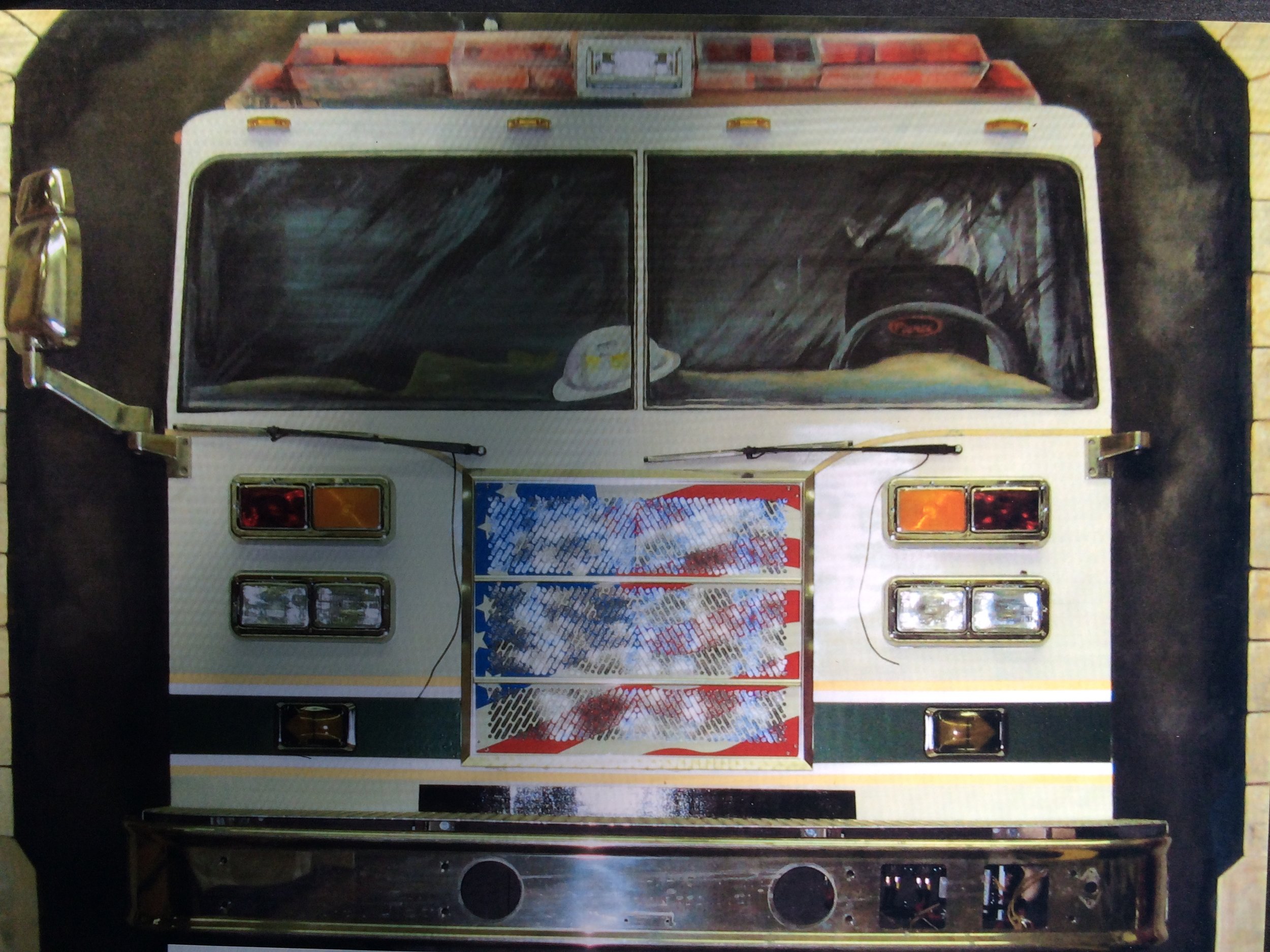 Firetruck • Stafford, VA (2008)
Stessie Jones at five foot tall is a great firetruck mechanic. Overtime, she mounted parts taken off of various trucks in need of replacement on this wall in her workshop. This rendering is completely to scale, as some parts are real truck pieces! This one was great fun painted in collaboration with artist Deborah Elaine.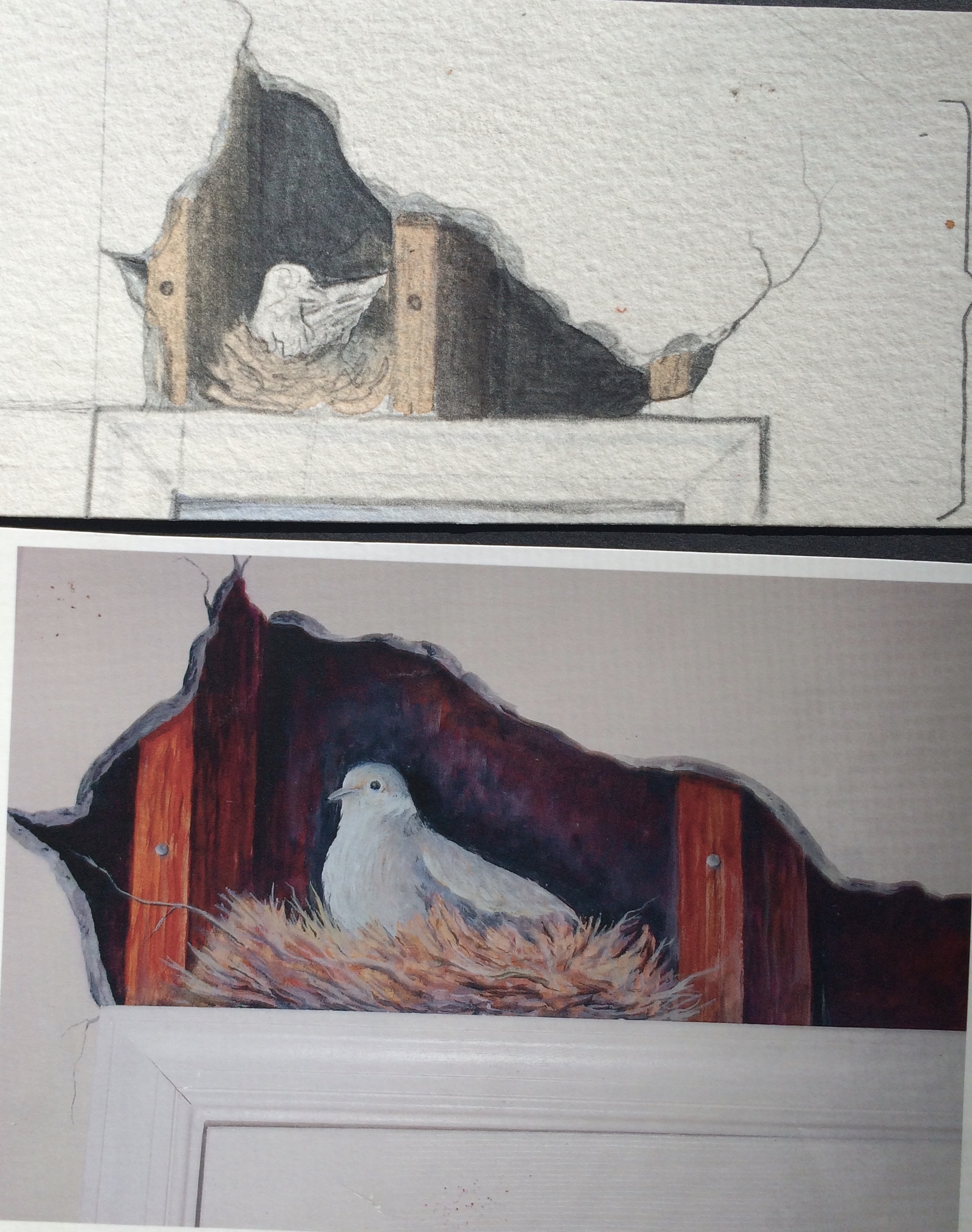 Broken Walls • Stafford, VA (2003 and 2005)
Painted along with my daughter, Nicole Duquette. She did the bird and nest and Dad did most of the rest. Cute stories about this one. Nicole came up from college at VCU to help and had died her hair (usually blonde) and Dad had a haircut and shaved off his beard. So… it took us over ten minutes time before we recognized each other at our meeting spot! While painting, Nicole said, "Dad, this is the weirdest mural. These people have a million dollar home, and they want us to paint it broken apart?" So, I reached into my pocket and gave her a hundred dollar bill and she just said, "Oh!" and kept painting! Haha.
Homosassa, Florida • 2018
Gary's first Florida mural, a small one, yet a true representation of his new home. Here is the sketch of the mural used for composition, first done in pencil.

Fredericks Restaurant • Fredericksburg, VA (2003)
Waterfall with birds.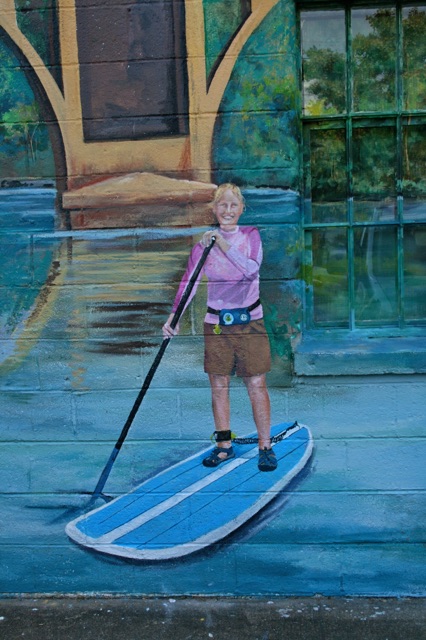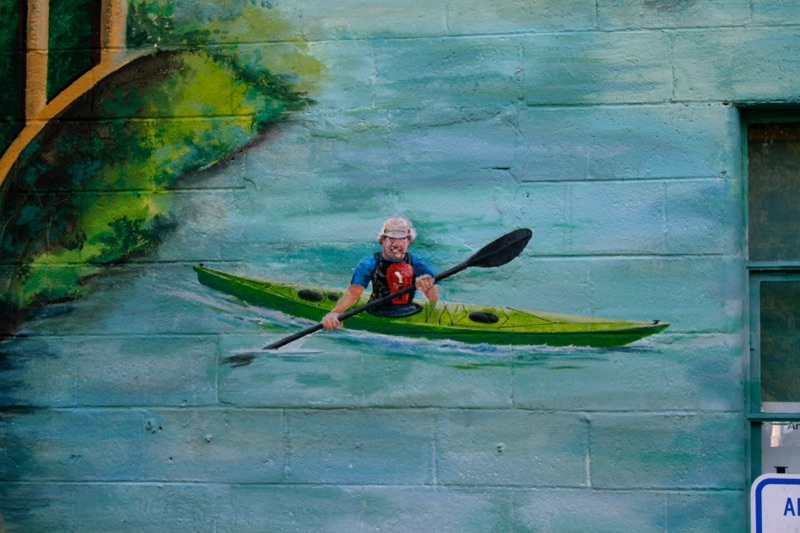 American Canoe Association • Fredericksburg, VA (2012)
Designed and painted in collaboration with artist Deborah Elaine. The most challenging mural Gary has ever painted! Not only because of it's mere size, but for the obstacles of pipes and five windows with bars. As the mural required something to promote Fredericksburg, it was Deb's idea to use the famous train tressel bridge to disguise three of the windows and the cityscape painted on top. To complete the windows, the blinds were painted to match the mural and the grates painted to match the blinds. This last step to the mural was dun, as people watching said they were amazed that the building was disappearing before their eyes as it was painted. As was the case with the outdoor murals they painted together, their dogs Schmuppy and Mochi were there to help.
Trolley Stop Deli • Fredericksburg, VA (2012)
This mural was painted in collaboration with artist Deborah Elaine. We painted the buildings outside on the wall inside, and the trolley that they owned as well to include their family members as their riders!
Barone Family • Lake of the Woods, VA (2005)
Gary painted this mural with his daughter Nicole Duquette. Mrs. Barone was from Positano, Italy, and was homesick for her country. She requested the town to be painted and Mr. Barone was from the Alps, so he requested the mountains. The blank wall at the end of the hallway was also painted to continue the Italian theme.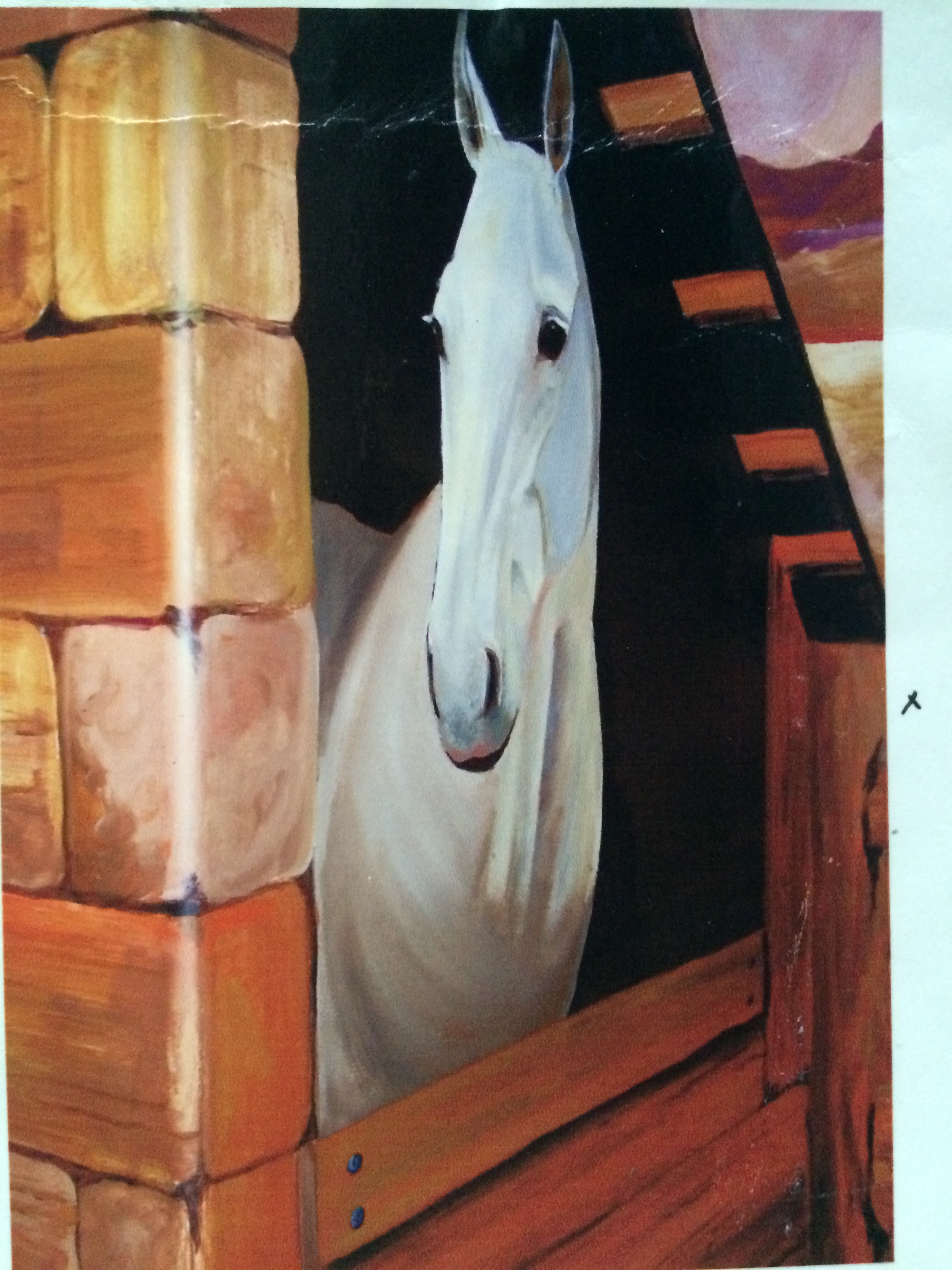 Western Town • Beach Residence, VA (2002)
Gary painted this mural with his daughter Nicole Duquette. She painted the horses among other things. This mural presented issues and the room wa over the garage where two walls angled toward the center of the room half way up the wall. So, the buildings look crooked unless you're directly in front of them. The perspective points were forced off the exact corners of the room to add to the deception!
Morgan Theatre • Stafford, VA (2007)
Gary painted this mural with his daughter Nicole Duquette and Deborah Elaine. The mural is on the stairway to the movie room. They wanted something fun to include their favorite movies and to showcase more detail than the movie posters. Nicole did Spiderman, Deb did King Kong and Indiana Jones, and Gary did StarWars. It went as far as painting popcorn on the stairs!
Movie Reel • Stafford, VA (2013)
Gary painted this mural with Deborah Elaine. The film strip was painted to bring a forward perspective with favorite movies in a collage in two squares. Some of the items mounted on the wall are real!
Anderson Dining Room • Stafford, VA (2005)
Gary painted this mural with his friend Andy Cunningham. The intercom system was designed as part of the large building on the right and the columns painted to match the existing ones in the foyer. The lighthouse depicted was painted in the Cunningham's Lighthouse Restaurant - a great place to have a great meal in Stafford and see Gary's lighthouse paintings! This mural saved when the restaurant closed as Andy cut out the 8x10 section of drywall.
The Fulton's • Fawn Lake, VA
Gary painted this mural with Deborah Elaine to depict the trees outside on the wall inside. The transition from spring to fall colors was chosen to repeat the warm greens in the kitchen to the left and the burgundy by the fireplace on the right. The finishing touches performed 20 foot high an exciting moment to add a flock of geese as Mr. Fulton said he had a good ladder that ended up being his grandfather's made in the 1930s.
Norman Clary Residence • Montross, VA (2012)
Gary painted this mural with Deborah Elaine. Norman was 80 years old and told us that he always wanted a mural. This is the sunroom and repeats the landscape outside the windows to the right. Often times, he saw wildlife on his ten acres. Fun story on this one was Norman loved to watch us paint and often fell asleep. On one occasion when he dozed off, Deb and Gary quickly did the two turkeys (one each). Shortly after completing and moving on to something else, a chuckle was heard as Norman awoke and laughed as he noticed the new addition!
Stafford County Transportation • Stafford, VA (2012)
Gary painted this mural with Deborah Elaine. An award winning photograph was used to depict all the buses in a row. It featured a school bus of children and one of the mechanic's portrait on the right.
Cars
The Howdyshell's operate a marina. The house is right on the river. The landscape in the paints is what would be seen outside if these were windows and the frames hand painted to match the molding on the existing windows. The customer wanted his favorite cars he owned going back forty years. This mural was assisted by Deborah Elaine.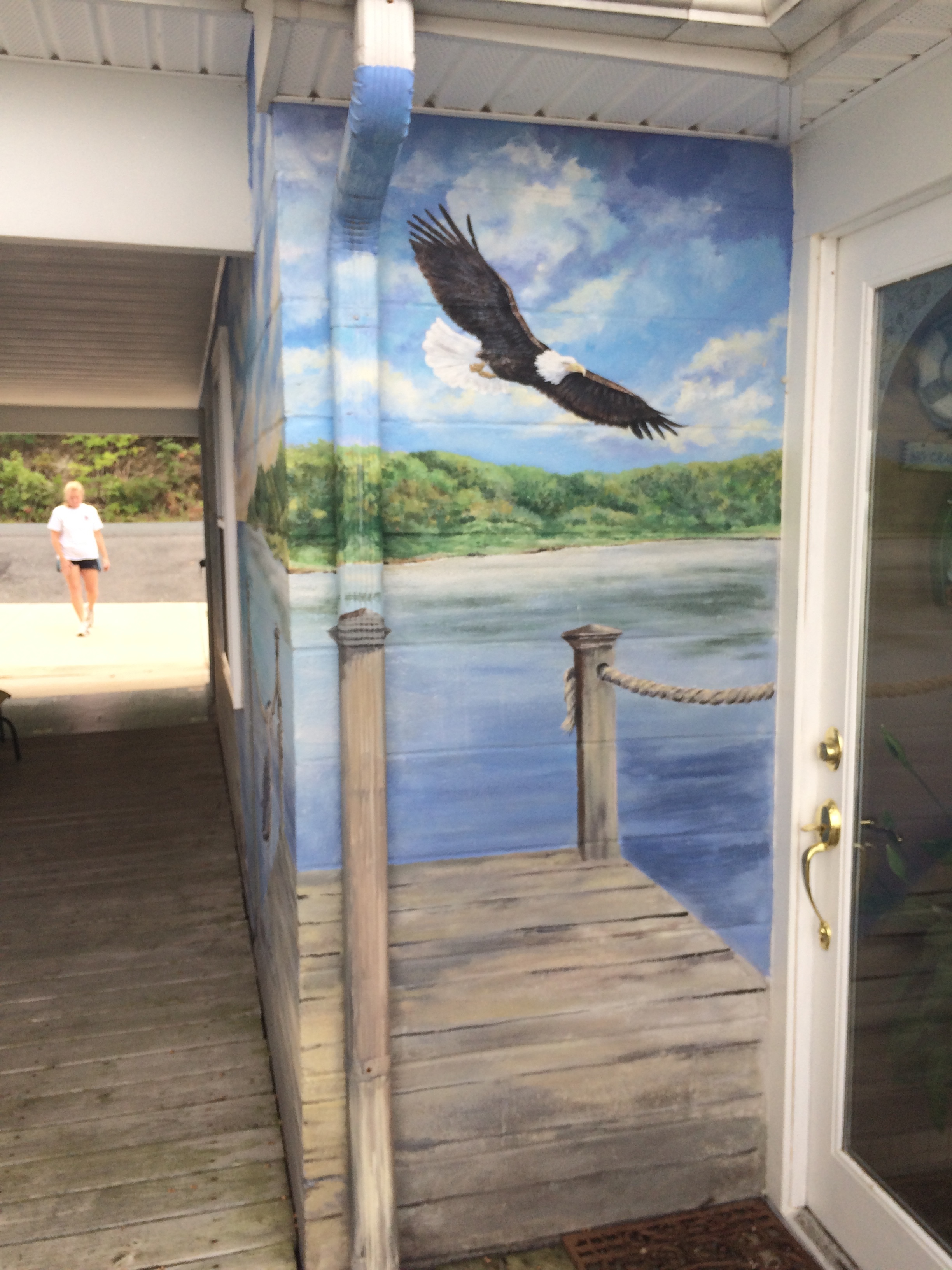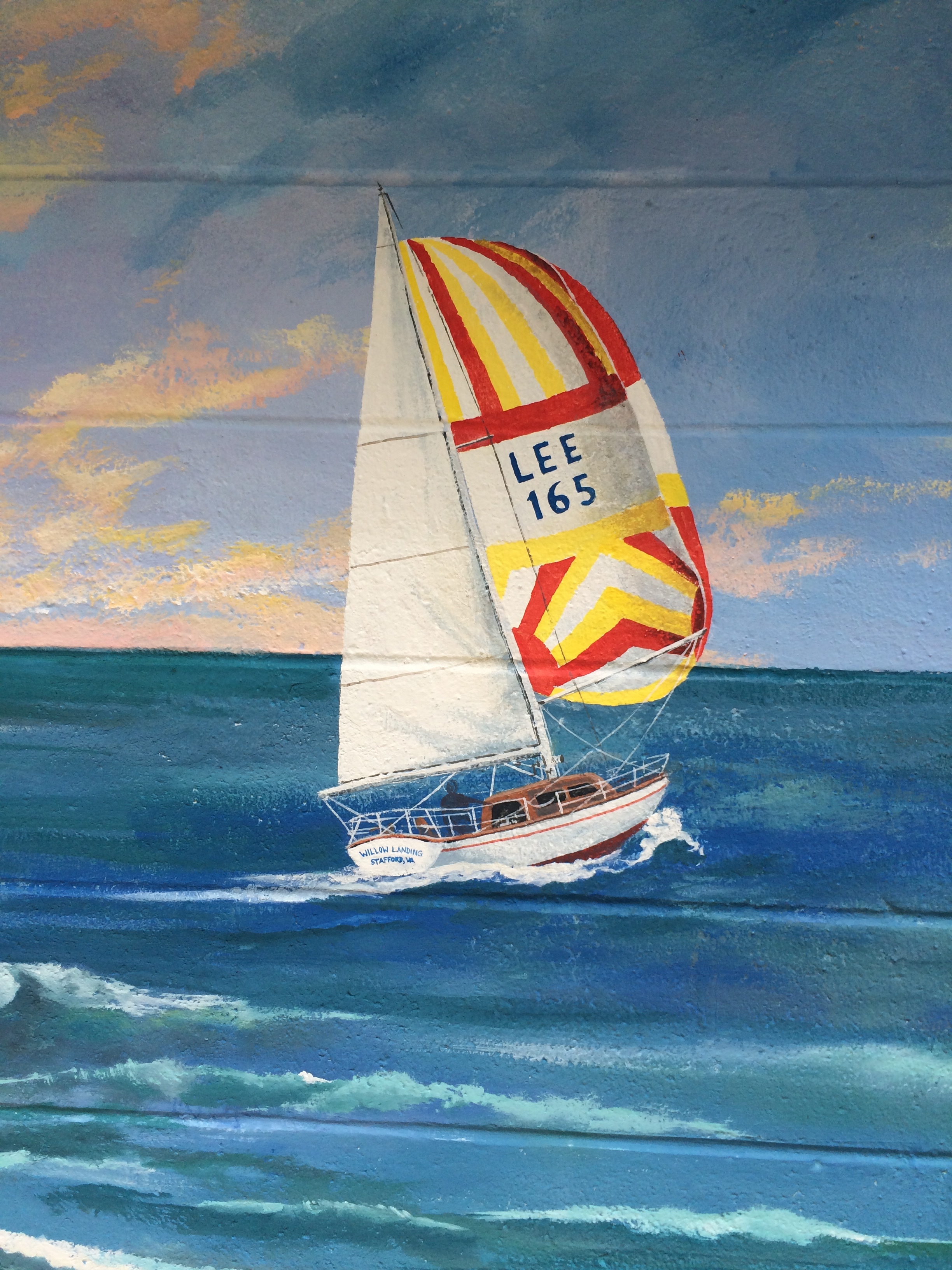 Lee House • Stafford, VA
Gary painted this mural with Deborah Elaine. Take a video tour of this walkable mural by clicking here!
Kitchen Nook • Stafford, VA (2007)
Gary painted this mural with Deborah Elaine. Stucco walls and Tuscany scenes looking out was done as a house warming gift for one of Deb's friends.
Children's Bedroom with Animals
This custom mural was done by Gary. It was one of the first mural jobs he did for a children's bedroom!
Duquette's Art & Frame Studio • Stafford, VA (1994-2014)
Gary's studio in Stafford, Virginia, was an old 1950s schoolhouse of 2000 square feet containing 12 rooms and 2 hallways. It housed his artwork and offered art lessons and custom framing. Murals were painted on multiple walls, ceilings, floors, doors and faux finishing on many moldings. Much of the painting was performed by many friends and students. Many of Gary's students started in elementary or middle school, and some even received part time jobs with him in high school. Among them were his daughter, Nicole, and nephews Eddie, William and Bryan. For thirteen of those years, Gary was able to spend every minute with his white lab Schumppy who was loved by all that came to the studio. It was a unique place people came to relax and enjoy a slice of creativity. Most would say they saw something new upon each visit! Truly a dream for two decades of time. Thank you to all of those customer that kept me in business for twenty years.